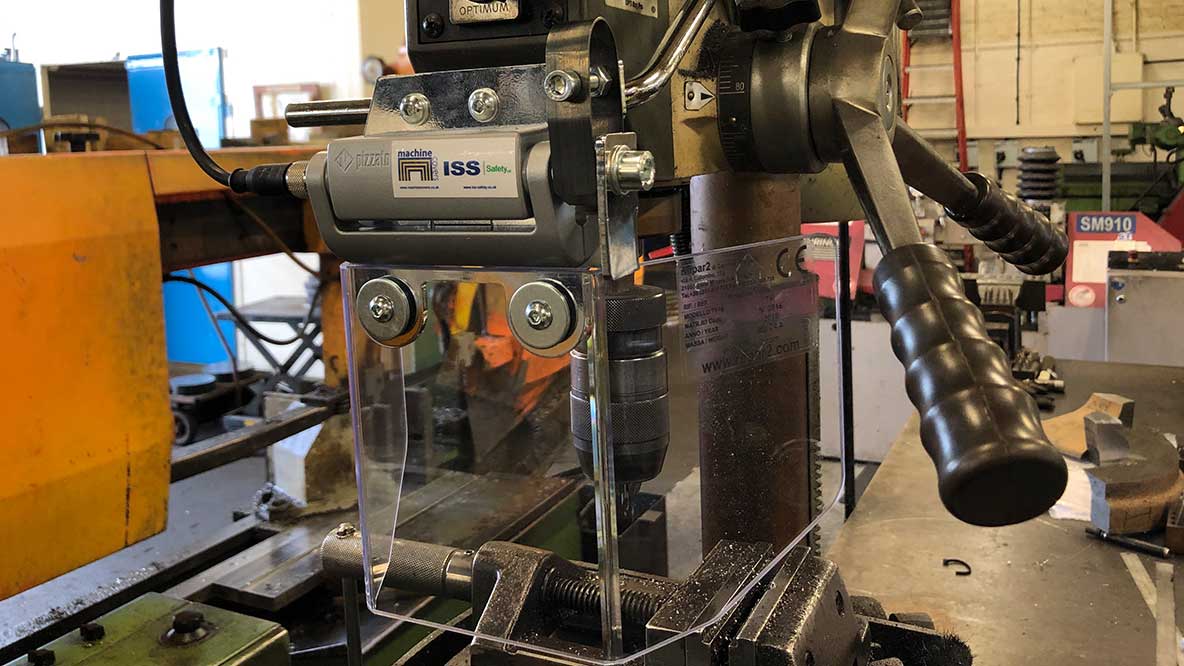 TR9 Interlocked Drill Guard
Repar2 interlocked drill guard with 4mm thick polycarbonate front screen that lifts vertically via the interlocked hinge. Easy to fit, easy to adjust and easy to use.
Product Technical Information
Description
This new interlocked drill guard is becoming a favourite in many different industries. It is almost always first out of our installation engineers' vans when they need to fit an interlocked drill guard. A vertically-opening, 4mm-thick polycarbonate screen and side-fixing system, equipped with a tamper-proof micro switch that is integrated into the rotation hinge, make this the most versatile drill guard available for single and multi-station drills. Easy to fit, easy to adjust and easy to use.
The 4mm-thick polycarbonate front screen lifts vertically to the open position via the interlocked hinge. There are three, pre-set open positions. An integral 14 MIC 008 safety switch and five meters of VF CA8PD5M cable are supplied. The fixing rod has a semi-circular mounting bracket which gives height, reach and angle adjustment that can be locked in any position. The unique mounting system and a screen that opens vertically make this guard ideally suited to multi-station drilling machines.
The safety interlock switch ensures that the safety screen must be in place before the machine can be operated. DC injection braking is optional, as is our dual-channel safety control panel as well as an additional e-stop or kick-stop. Our 'safety panels' contain safety relays and dual-power switching contactors. This system provides redundancy and fault tolerance, and it complies with current Standards regarding safety-related parts of control systems.