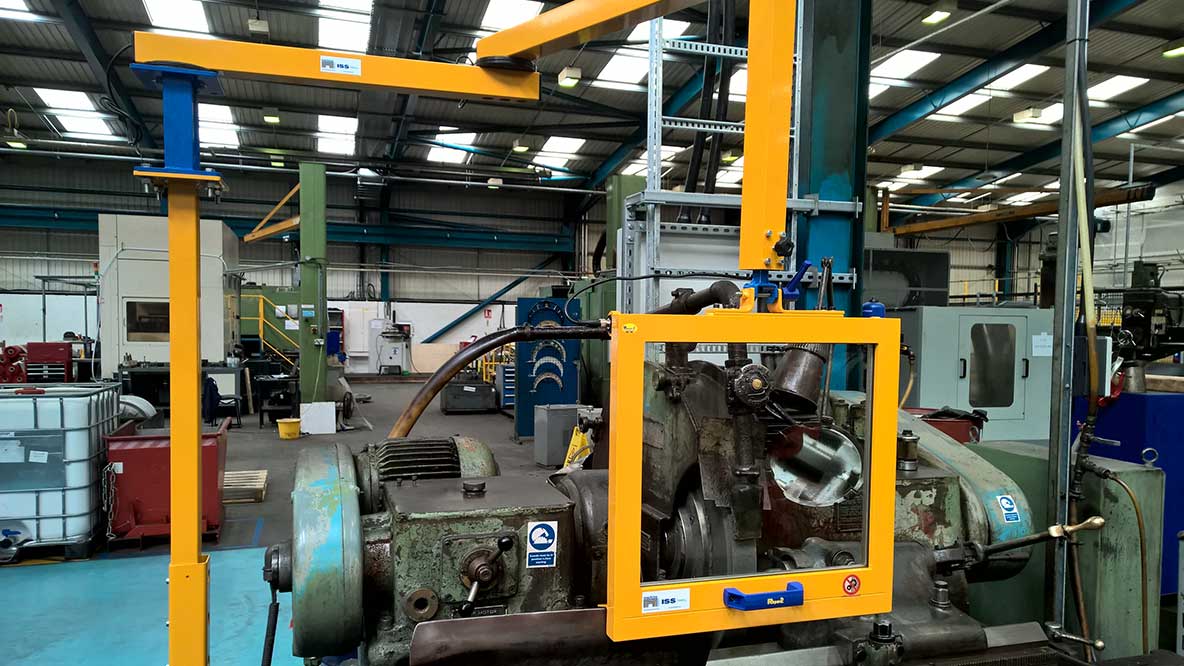 TOP Line Universal Guards
Universal safety guard for large milling, drilling and turning machines. Specialist applications as well. The TOP guard and MCL post 25400c are suited to all types of grinding machines.
Please enquire for pricing details.
TOP 630 Technical Information
Description
The TOP range of guarding can either be fixed directly to the machine or floor-mounted by using our optional height adjustable post, MCL 25400c.
The steel TOP framed guards or screens are fitted with laminated safety glass or with impact-resistant polycarbonate windows if requested. They lift vertically, swing and tilt to your chosen position and are fully counterbalanced, thus avoiding any manual handling issues. There is a range of screen or guard models available as standard – led lighting and different micro switch combinations can be selected. Each model and option required is determined by the part number specified.
Standard and supplied interlocking is with IP67 safety switch or switches (code 14 MIC003 and MIC004). Solenoid interlocking and DC injection braking is optional as is our dual-channel safety control panel, along with an additional e-stop or kick-stop. Our 'safety panels' contain safety relays and dual-power switching contactors. This system provides redundancy and fault tolerance, and it complies with current Standards regarding safety-related parts of control systems.
The TOP guard and optional MCL post 25400c are both heavy and should be installed by a minimum of two people. Additional plates or brackets may be required to bolt the guard directly to the head of the machine – these are not included. When fitting directly to any machine, ensure the guard's column height is clear from possible obstructions or collisions. The column and guard will move up and down and swing. Verify that the safety guard cannot collide with any buzz bars, overhead cranes, light fixtures, beams or the workshop roof.